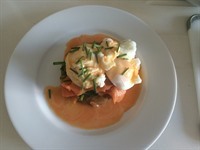 Food Allergies and our Breakfast Menu
At Aotearoa Southport, we are specialists in food allergies. So if you suffer from any allergies, you will be well cared for here. We offer Gluten Free, Wheat Free, Dairy Free, Vegetarian and Vegan options if you can give us advance warning.
We are Celiac cooking trained in food storage, cross contamination and food serving, and as I also have food allergies, I am aware of the importance of creating healthy dishes that work with the allergy sufferer.
We have been nominated this year in the Eviivo Tastiest Breakfast Award and are featured in Eviivo's Charity Cookbook called "Great British B & B Breakfasts - Not your average fry up".
What are you waiting for? You definately won't be disappointed here!